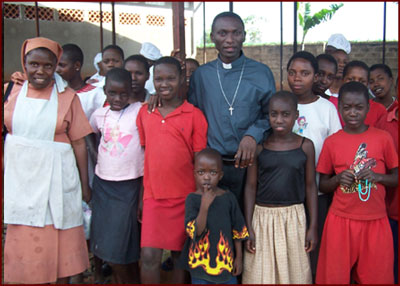 Dearest friends,
"I thank you so much for the tremendous concern you have for the disadvantaged girls of St. Elizabeth Girls Home in Uganda. This is a home and a school for orphaned street girls who would have no one to love them and take care of them if it were not for such generous friends like you. Thank you so much for all the support you offer, both material and moral. It is because of your love that this orphanage will manage to go on.
Right now, we have about two hundred girls congregated in one old structure and tents on approximately one acre of land. Under the current conditions, it is nearly impossible to properly equip these girls with the skills they need to live on their own someday. This is why we need your help to forge ahead with the SEGA campus.
My personal appeal to you is that you assist us to buy land and build an organized campus, The St. Elizabeth Girls Academy, so that together we may help many more children to have a future.
Together we can change lives for a better world and give precious hearts hope. Thank you so much for your generosity. May God continue to bless you for your love."
Yours in Christ,
Fr. Mugagga Lule