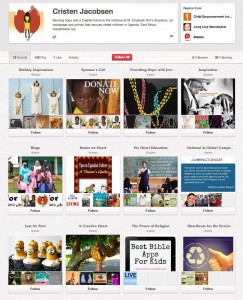 My, it's December already? Where did the year go? We are in the midst of the holiday season, and we are all busy cramming in our final year-end needs. Whether it's navigating school finals, the waves of business, or balancing both worlds, life can get a little hectic.
Stop. Take a moment, a deep breath and look around. The holidays are a time to appreciate and celebrate our family, friends, clients, and acquaintances; even complete strangers.  It's a time for traditions, gratitude and reflection. I also believe the holidays are a time for re-invigoration and inspiration.
So as I was pinning away some cool holiday ideas to share with you, I discovered Pinterest's 30 days of Pinspiration, where each day a highlighted pinner gets to share what inspiration means to them. The boards so far have been engaging, and so I went pin happy sharing these inspirations. Make sure to check out our pin boards where you will find many bursts of inspiration to get you through the holidays.
You know my inspiration is my family, my faith, and my girls at St. Elizabeth. December is a month of inspiration and Pinspiration. I want to hear your stories, who or what has inspired you and why?
Peace and Love,
Cristen