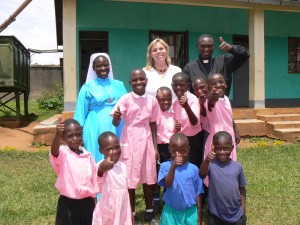 1 Thessalonians 5:18 in everything give thanks; for this is God's will for you in Christ Jesus.
I know we are thankful everyday for our family and friends. Yet as life gets busy and throws us curve balls, we sometimes place our gratitude on the back-burner.
So on the eve of this Thanksgiving 2012, let's celebrate the greatness of our gifts we hold so precious in our life.
Today, as I prepare the family for Thanksgiving, a family that I love so dearly, a family that actively and passionately joins me to fight for girls thousands of miles from us. For that, I am so thankful. My wonderful husband and five children: they are my rock, my motivation.
I am thankful for God bringing Father Mugagga into my life. For without him, I would have never known about the girls at St. Elizabeth. It brings me much joy in hearing their laughter and the unconditional love they sent my way in our brief encounter last fall.
My friends who support me in my drive to reach my hands around the globe to give a girl an upstart to her dreams. My friends have always been there for me and for that I am thankful.
St. Elizabeth would not be buzzing with the expansion of its campus, without our wonderful donors, who are the backbone to carrying on our mission. Much more work is ahead, but you are the reason we are able to continue to give girls a hand up.
There is so much more to be thankful for and I will share them around the Thanksgiving table with my loved ones. I encourage you to share your thankfulness, right here in the comments, around the dinner table or privately.
Wherever your Thanksgiving travels take you, enjoy.
Peace and Love,
Cristen