They say the best way to understand a culture is through the cuisine, and we believe this to be wholeheartedly true.
The importance and independence of cooking is why Hope for Hearts has created a culinary training program for our girls at St. Elizabeth's Academy. The girls are trained in practical cooking experience to help provide a valuable skill to their local communities upon graduation. Many alumni have fulfilled their dreams of opening their own food stands.
Ugandan food varies from the simplistic to the exciting. The basics being a type of maize porridge called ugali served with a peanut stew and topped with chicken, goat or tiger fish.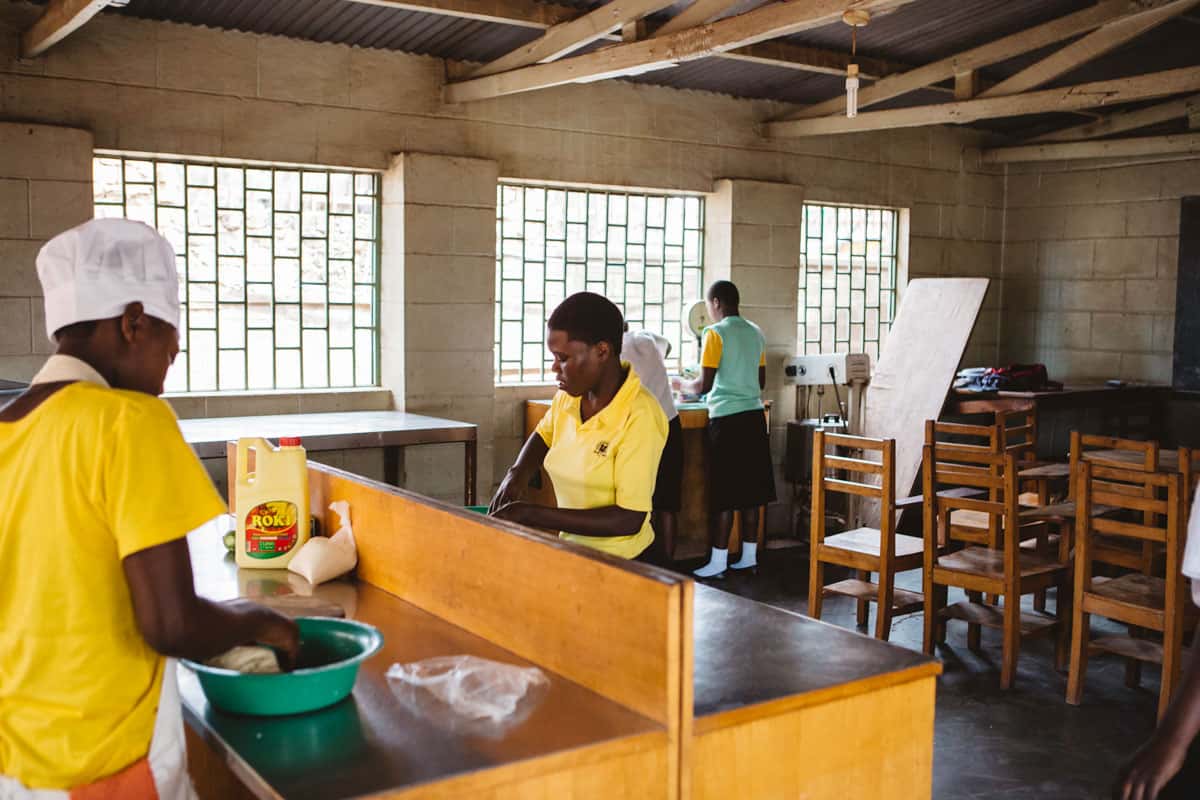 Their national dish is one of the oldest in the world and one of the most versatile. The matooke, a green banana found in East Africa, is considered a staple of most diets. Unlike traditional bananas, the flavor is savory like a plantain, making them perfect as a focal point for many meals. They are usually served boiled and mashed alongside stews.
Some Ugandan street food favorites are barbequed meat on a stick (Muchomo), African donuts (Mandazi), and samosas. The influence of Indian cuisine is prominent in Uganda due to the large immigrant population in the country.
The most popular street food dish is a rolled egg called a rolex. It begins with 2-3 eggs that are cooked like an omelet and is then stuffed with cabbage, tomato and onion. It is then combined with a chapati before serving.
The recipe we have chosen is a spicy banana curry that gives you a taste of Uganda with a fuller, more exciting flavor. The original recipe says to serve it over basmati rice, but if you want a more authentic meal, you can pair it with ugali instead.
Spicy Banana Curry
Ingredients:
1/3 cup sunflower seed oil
2 onions, diced
½ cup curry powder
1 ½ tablespoons ground cumin
4 teaspoons ground turmeric
1 ¼ teaspoons salt
1 teaspoon white sugar
1 tablespoon ground ginger
1 teaspoon chili powder
1 ¼ teaspoons ground cinnamon
1 ½ teaspoons ground black pepper
4 teaspoons curry paste
8 cloves garlic, pressed
1 (10 ounce) can tomato sauce
2/3 cup plain yogurt
2 bananas, diced
3 tomatoes, chopped
¼ cup flaked coconut
Directions
Heat the sunflower oil in a large saucepan over medium heat.
Stir in onions, and cool until they are translucent and soft (about 5 minutes).
Sprinkle in curry powder, cumin, turmeric, salt, sugar, ginger, chili powder, cinnamon and black pepper.
Cook and stir until fragrant (about 1 minute).
Stir in the curry paste and pressed garlic.
Cook for about 1 minute.
Pour in the tomato sauce and yogurt, bring to a simmer.
Stir in the diced banana, and simmer gently for 3 minutes.
Mix in chopped tomatoes and continue to simmer for another minute.
Stir in the coconut flakes just before serving.
We hope you enjoy your taste of Ugandan culture. We believe our training programs set our children up for success, and helps break the cycle of poverty. If you would like to sponsor a child please visit our donation page.
Peace and Love,
Cristen Lyn