This holiday season we are launching Gifts of Hope. It's simple. There are five ways to help Hope for Hearts provide an education and a hand-up to an orphaned child.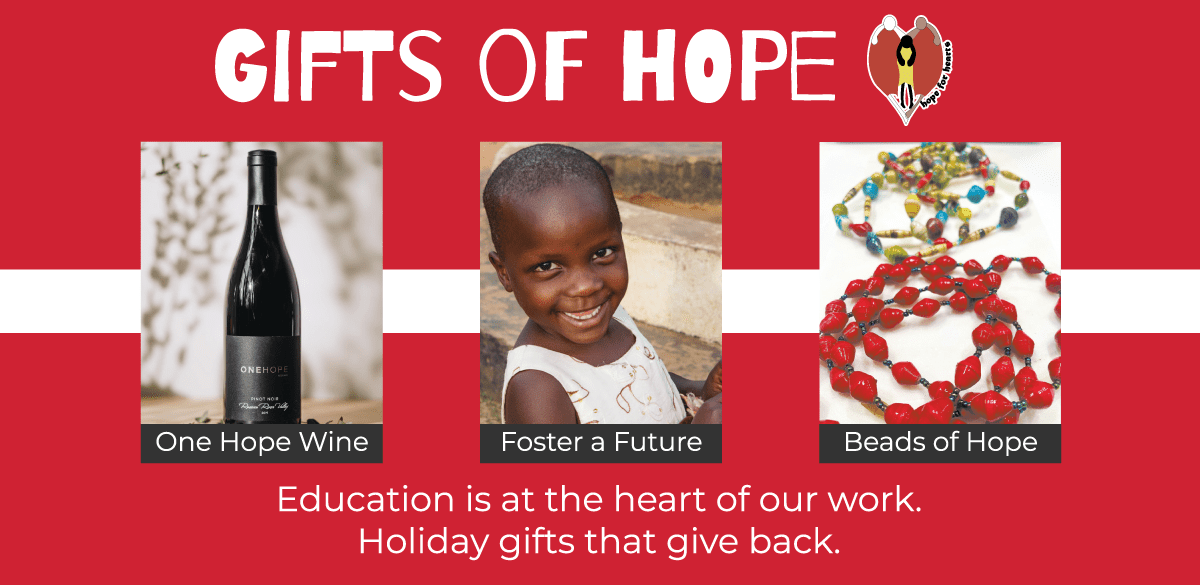 Cheers to Life
Raise a glass and toast education. One Hope Wine offers charities a way to fundraise through hosting an online 'party' for Hope for Hearts, and we receive 10 percent of the orders. Email me at donations@hope4hearts.org and I will connect you with our fabulous cause entrepreneur, Danielle.
To order some vino or bubbles for the holidays, we currently have a party set up here. I recommend the etched sparkling wine options for all occasion gifting including birthday, wedding / engagement, new home and fun holiday bottles. You don't have to join the wine club to order, shipping is only $10 and bulk orders save with 10 percent on 6-packs and 20 percent on 12-packs of wine. Cheers!
Foster a Future
Every day, children in Uganda struggle to survive. Every day, a young orphan fights for life's basic necessities because they lack the skills needed to thrive through no fault of their own. This is where we step in. Hope for Hearts fosters and promotes the growth and development of hundreds of children year after year. The children who attend our schools have been left parentless. We take them in, and we provide an education and training program. By supporting Hope for Hearts, you can help us foster a future through donation, and that will give them an opportunity to educate up from poverty to prosperity. View our training programs, and foster a future through donation here.
Handmade Necklace
What if I could provide you with a great gift idea that spreads the love two-fold? Hope for Hearts sells handmade necklaces that make a perfect gift for the philanthropic person in your life. From friends and family to teachers, to your book club gift exchanges, our paper necklaces make a big impact. Every purchase not only provides a gift to the recipient, but also gives the gift of opportunity and education to an orphan in Uganda. The recipient is bound to love it even more knowing that the purchase went to a great cause. View our inventory here.
AmazonSmile
Every little bit is a blessing. If you are a shopper at Amazon and have not signed up to shop through AmazonSmile, you are missing an easy way to support our mission. I had one donor reach out with her stats of 218 orders totaling $87.45 in donations. That may not seem like a lot, but if four more people signed up, and another four, and another…the group action raises the donation vibrations. So, with the holiday season approaching, consider activating support in the Amazon Shopping app or smile.amazon.com. We are listed under our first school, Saint Elizabeth Girl's Academy Foundation. Click here for more details.
Hope for Hearts is a charity I started many moons ago. The girls are resilient. They have overcome many obstacles, yet keep going and making a path for themselves. I could say the same for myself. I started Graceful Spaces to help others own their life. The fifth gift of hope can help you and our girls.
Coach Cristen Lyn – Graceful Spaces, a Health and Lifestyle Balancing Company
As your coach, I provide a private safe space without judgment, along with the tools to start leading the abundant life you deserve. Book a session with me and I will donate 10 percent back for every new client booking by December 31, 2021. We will explore what it takes for you to THRIVE and UP LEVEL – mind, body and spirit. Together we develop strategies to navigate daily life, and achieve your goals. We do this with our girls. The best part, you and I will have fun strategizing how you can own and live your best life! Book here.
I am so blessed to have you all in my life. Your support provides kindness and love. It's a beautiful gift of hope.
From my family to yours, cheers!
Cristen Lyn