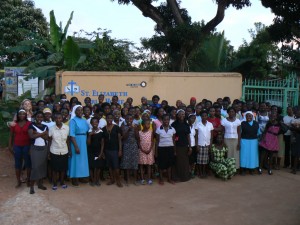 School in Uganda is a privilege. Incredible sacrifices are made to support an educational experience for children. Now imagine not having a family to support that goal. The girls at St Elizabeth Girls' Academy (SEGA) recognize the importance of education. Prior to life at SEGA, most struggled without it, leading a life of begging and other unsavory things a child should never have to experience.
Education in Uganda consists of seven years of primary school, four years of secondary school, two years of upper- secondary school followed by university. The Primary Leaving Examination (PLE) is one of the most anticipated and aching times for students. This is an exam that is hosted in November with three waves of results being released towards the end of January.
Result time excitement has been in the air at SEGA these last few weeks. Just like any American teen looking to move up through the ranks of high school and college, the girls at SEGA are weathering the wait to see if they will move on in their education.
Here are some facts about the exam.
565,663 students from 11,171 schools registered for PLE in 2012
480, 067 students received notices of passing in January 2013
2012 areas of performance best to worst: English, social studies, basic science and health education, mathematics
Reality is just over 85,000 Ugandan students had their final moment in their education this month with the receipt of the PLE score. The brutal reality is that less than half of those students taking the next step to Secondary will complete Secondary. For girls at SEGA, some will move onto Secondary, others will start the path into a vocational study.
News from SEGA exam participants will make its way to Hope for Hearts soon, so stay tuned.
Peace and Love,
Cristen